Call for Articles - The Hacker News Magazine | December Edition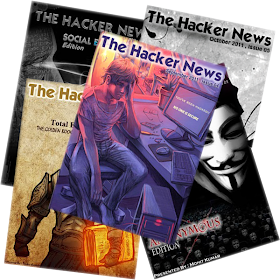 THN Magazine is a free monthly magazine designed to spread awareness and knowledge about cyber security. Our goal is to provide the most up-to-date information on a wide variety of topics that relate to hackers and security experts worldwide.
We welcome contributions from readers and hackers like YOU! Simply submit your idea or article to
thehackernews@gmail.com
or
admin@thehackernews.com
and your submission could be featured in our next edition.
Some topics of interest include, but are not limited to:
New attack and defense techniques
Related to Anonymous ,Activist and Hacktivists
Vulnerability discovery
Small tactics and techniques; Big attacks and impact
Mobile hacking
Professional exploit development
Security and hacking events around the world
Technical book reviews
Security and hacking threats
Security tools
Expert interviews
If you enjoy our monthly publication, please spread the word! By sharing our free magazine with your family, friends, co-workers and other security experts, you're helping to promote awareness about global security issues.
For additional information, including deadlines and guidelines for submissions, please contact us at:
thehackernews@gmail.com
or
admin@thehackernews.com