[Contest] Win "Ghost in the Wires" Book by

Kevin Mitnick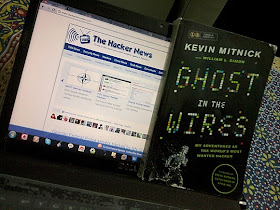 Some call him a saint, some a criminal, others adore him. Industry may loathe him but we here at The Hacker News say, "
Get ready, loyal subscribers!
" Enter our newest contest and win a copy of Kevin Mitnick's new book titled, "
Ghost in the Wires
."
Fellow hackers will be pleased to know that to celebrate the release of his book,
Kevin Mitnick
has teamed up with
The Hacker News
and is giving away 3 copies of the book to our readers who submit the coolest, keenest and most appealing comments or reviews about the book.
Mitnick is no less than a genius as he knits a story of intrigue and suspense as he navigates through the mazes of high tech companies keeping them jumping and realizing they are not invincible……not even close.
How you can be one of the Lucky Winners?
Does this sound like something you might be interested in? All you need to do is head on over to the book page:
Here
and drop a line via the comments below this article OR on
Amazon
to let us know what interests you the most about the book.
NOTE: Three lucky winners will get free copy of the book. The contest will close on October 19th at 11:59 p.m. Winners will be contacted by email, so be sure to use your real email address when you comment! Make sure to check your Inbox on October 20th. ;-)