CBI was actually Hacked By

Hamza

(

Zombie_KSA

)
C
BI

was Hacked By Hamza, Know as Zombie_KSA. He is from Kingdom of Saudi Arabia.
ZombiE_KsA he is famous Pakistani Hacker , member of PAKbugs ! have hacked alot BiG sites ! Including 3 Indian banks, 4 Indian police websites ! Indian CID !! and Now CBI also hacked by him. .. etc..!!
Also He hacked FIA , to show FIA that how much their website is Secure !
The website of premier investigating agency
CBI
was hacked by programmers identifying themselves as "
Pakistani Cyber Army
". The home page of the
CBI
website had a message from the '
Pakistani Cyber Army
' warning the
Indian Cyber Army
not to attack their Websites.
But actually The Site was hacked By Hamza (Zombie_KSA).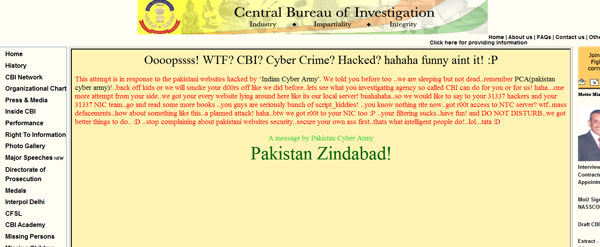 ZombiE_KsA is the first Pakistani hacker who Hacked "google" , "microsoft" , "yahoo" , "aol" ,"toshiba", "hotmail" , "Cisco" , "Bsnl", "Citibank" , "Prime Minister Manmohan Singh Website" "Mp Police" , "Tn Police" , "Central Bank Of India" , "Pak Govt", "bank of baroda" , "Geo TV" , "ZEE TV USA" and other famous sites domains.
You Can see the websites hacked By him at :
https://zone-h.org/archive/notifier=Zombie_KSA
Brining down a famous site like Google is not a child's play and hence we can easily guess that the hackers are very well advanced in their techniques. Even though it is not a very positive thing to hack websites but one thing is sure that these hackers will come to the rescue of Pakistan if someone tried to hack pak sites. They have proved this in the past when they hacked Indian sites in retaliation for hacking Pakistani sites. Lets hope that he will use his knowledge for positive purposes.